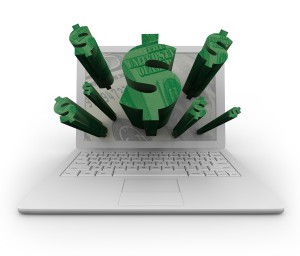 If you are thinking about how to make money and you do not have a plan yet. You can start a webdesign service from home. If you like to make money then it is wise to get some background information about building websites. If you are already web savvy then you can build websites and sell it for profit.
Website flipping:
This is building websites and selling it for more. If you have some knowledge about a certain topic or you are able to gather information about any topic and build a website around it then you can make good money with selling websites. If you can add content to websites around the topic of the website and you will have lots of google indexed pages and also your websites rank high in the search engines people are willing to pay big money for it.
Cold calling to find new prospects:
If you go to the yellow pages in your country and insert the keywords to find the targeted prospects then you can cold call to find new prospects. I think if your targeted prospects are record stores and find telephone numbers of the record stores in a certain area and ask if they would to have a website build for their record stores. This is a simple method to get prospects. The easy thing is picking up the phone and cold calling the tough part is that it is inevitable that you have to digest no.
Use WordPress to build websites:
If you are professional then you will pick WordPress. If you build a website you can let the customers maintain after that the websites. There are some great features in WordPress. You can buy additional themes. If your website is about cooking. There is the possibility to display pictures on the website. After adding enough content you can optimize the websites for the search engines. Write articles and submit to article sites and submit your sites to directories. I think picking WordPress has lots of advantages. There is a great control panel.
Sell your websites:
If you have build a website and it has some traffic you can go to Flippa.com and sign up for an account and sell your websites. There are buyers always looking for new websites to buy. It is matter of patience to get the piece of the pie. I think building site for site it is a great way to go. Take your time and make the content stand out from other websites. Keep the content most relevant. If your sites can offer value to the Internet Google will give a good page rank.
Get assignments from prospects:
This is picking up the phone to make appointments to discuss business. Once you have showcased the prospects your previous work they will be able to witness your work. If you call then get the e-mails to send e-mails with the price list. Make the deal be a mutual benefit for both parties. I think cold calling is a great way to get new prospects. It is a matter of picking up the phone book or yellow pages to market your business to prospects.
What to charge:
If you have a website with 10 pages then it must be of course cheaper than 20 pages website. If you add more pictures to the 20 pages website you can ask more money for it than 10 pages websites. Offer people more than one choice. They will go for a deal what is suitable for them. I would give you some advice. Let the 10 page website be 299 usd and 20 pages website 499 usd. This seems to be a example of course it is up to you to decide how much you are going to charge.