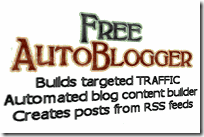 If you are blogger then you must of know what automated blogging is. If you like to make money online with multiple blogs with fresh content which is already is written without your efforts. Then keep on reading this post explains how to make money online with automated content blogs. There are bloggers with 100′s of blogs this makes them easy to get traffic and eventually convert the visitors.
What is automated content?
Automated content is a term which grasps the area of automated content creation. You can gather fresh content through some services to place the content on your blog. What content is what you write on your blog. It would be easier to make the content appear on your blog without any effort of you. There are other people writing content and through a service or a software you make sure the content appears on your blogs.
How to set up free blogger.com blogs with content?
Step 1. Go to MSN.com and set up an separate e-mail accounts for the blogger.com. Register accounts with Blogger.com. If you have the plans to set up 100′s free blogger.com blogs you will need about 10 different accounts because Google.com do not like that you have 100 blogs on the same account.
Step 2. Go to free auto blogger and download the free or pro version. Choose add blogs. Add the blogs name and fill in the access information. After that choose settings of the appropriate blog and add the feed link and press download. After that press okay.
This way you can create hundreds of blogs with free blogger.com. This is a great opportunity if you do not have the money to invest in the initial state. I have made about 20 blogs with freeautoblogger.com. There is a blog about Forex getting some great results.
If you want to make money with Adsense it is a great method to get started. You can add a gadget from the interface to have your own Adsense ads to work for you. You can monetize your blogs with Amazon ads or Adbrite ads. There are many options that make money online with free automated blogs.
I think you better find a list of high paying Google Adsense keywords list. Then build blogs around those niches. I know that mortgage Adsense keywords pay well. If you optimize your automated content blog with the high paying keywords you can make from 1 USD up to 40 USD per click.