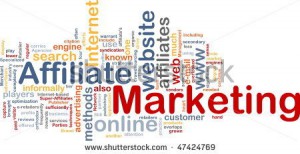 First of all an affiliate is someone who refers people to other people's products and gets an percentage of the sale as compensation. This can be quite profitable since there is practically no start up costs or no storage to be held. The best is to create a website with many products on one site. This is more effective than only one or few products on one site. This is easy for customers to shop and this is an easy way for you to advertise one web link instead of 100′s.
#1: Get a html builder. If you do not know coding. Then do not panic you can easily build an website without knowing how to write codes. I think Site Build It can guide you step by step how to set up a website and you will learn how to optimize it for the search engines to get high rankings. If you wonder what the price is of SBI is 299 usd per year. Then you get a domain name and hosting free. If you think that is too much then you can go to Yahoo's site builder for 144 usd per year.
#2: Choose a niche: If you sell online money making products then you do not want to place consumer electronic products, health products and ads about hand guns on one website. This causes confusion to the prospects. The best is to focus on one topic. If your niche is golf then you can offer clubs, how to guides. You can find related products to golf and offer it on one site. You can brand your self as an expert in niches if you focus one niche per site.
#3 Sign up with affiliate programs: You have to sign up with free site likes Share-A-Sale to find the right type of products to promote on your website. As an affiliate you can make money on different ways such as per lead, per click or per sale. To get the most from your affiliate business you have to sign up with all the three methods of affiliate money making. Also sign up with Clickbank, Commission Junction and Max Bounty.
#4 Add articles to your website: You can write or get free articles. If you write it is better than placing other peoples articles because you have to place a link back to the original content. If you write your own content then you do not have to place a link back to the original content. This means that your visitors have no chance to click through to the original content.
#5 Choose a domain name: When you choose a domain name make sure it is based on the niche you chose.
If your site is about making money online then choose a domain name with the keywords related to the niche and make a list because some can be already taken. Make sure that the domain name is short and it is easy to remember. If your site is about making money online then do not pick your name as the domain name.
#6 Add AdSense to maximize your profits: If you add adsense you can make money with generating page views and clicks. This can be an extra income next to your affiliate sales. The amount of money you can make depends on the amount of traffic you will get. You can sign up for free with Adsense and set it and forget about it.