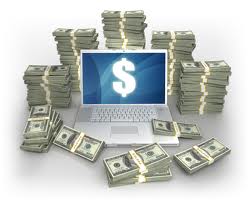 There is no doubt that Google Adsense is the market leader when it comes to content sensitive web based marketing. You will be able to place a code on your website and the server will show the ads on your site. There is the possibility to make the ads go smoothly with your site's color. There is the option to pick from various size of ad formats. It can be a wide sky scraper or sky scraper.
Google has many rules and regulations and there is a strict policy they execute to make the whole process of keeping it fair for all the involved parties. I think if you are serious about making money with Google Adsense you got to practice white hat techniques to keep it all legit. Once  you be legit there is nothing to worry about. I think it is like waiting on stocks to yield. Foremost there is patience required. I have plans to make this blog long lasting and I am going to make money with Adsense.
Chitika: This is also a web based ads publishing site. This site pays you to display ads on your website. The amount of money you can make depends on the amount of traffic and page rank. Once you have a page rank 6 and have 100k traffic in the month. It is a piece of cake to make money with Chitika. I think you be able to build a site from the scratch and have to add content frequently and if it a site you have to update it once in three months just before google page rank update.
Bidvertiser: This is a great alternative to adsense. This site also pays you to display ads on your site or blog. There is the possibility to choose from many formats. You can implement the code on your website and generate traffic. It is for real the traffic what you need to make money. If there is enough traffic you can get a high page rank. If you make 10 dollars at least you can get paid through paypal. If you make 100 usd then you can get paid by check.
There are lots of sites that is same as Adsense I still go for Adsense, because this is the most famous site when it comes to making money with displaying ads. I think it is matter of keeping it legit with Google. If you do anything to violate their rules your account will be banned. I have good experience with Google they paid me 100 usd once with another blog. I have mentioned a 2 Adsense alternatives. I think this is nothing comparing to Google. I think to beat this giant you have to be hell of nice.
I would advice you to put your trust into Google Adsense. I think if you keep it all legit you can make huge amount of money in due time. Work hard and devote your self to adding content to generate traffic.
How to make money with Adsense:
Make youtube videos and associate your Youtube account with Adsense and you will do fine. I have this hip hop music project. I am intending to make 400 songs. I have drawn many digital images to include in the slideshow and I add additional songs in the background of the slideshows.
Make a blog: If you have a blog you can place ads on this blog and generate traffic to make money online as a publisher. If you have plans to make money online then you can start a blog and sign up with Google Adsense. This is really a trust worthy site. I would not go for another alternatives.